AUGUST 25, 2004
Why Bernoldi?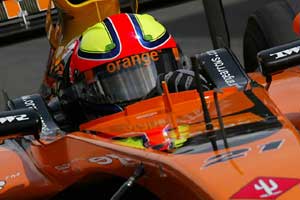 The announcement that BAR-Honda is to test Enrique Bernoldi is interesting. The team needed an extra driver to do development work while Jenson Button and Takuma Sato are away in Asia and has picked Bernoldi, apparently because of his experience in F1. Bernoldi drove for the Orange Arrows team in 2001 and 2002, completing a total of 28 races. In 2002 he hit the headlines because of his relationship with tennis player Jelena Dokic but has otherwise been fairly low key, racing in the Nissan World Series. He is currently second in the points standings.

"He possesses the solid F1 experience that will help us to achieve as much continuity as possible in the latter part of the season," said technical director Geoff Willis. "The end of the five-week testing ban means that all of the teams will now be ramping up their efforts to fight for every available opportunity for points and championship position. We are no exception in this."

The decision to run with Bernoldi is more than that, even if the team does not admit it at the moment. Bernoldi fits the BAR-Honda brand image and if he is quick and consistent he could be a suitable replacement for Jenson Button. More importantly, however, the inclusion of Bernoldi in the testing indicates that BAR is not necessarily going to just look at known-quantity drivers such as Jacques Villeneuve or David Coulthard and may be willing to look further afield for a replacement (if one is needed) for Jenson Button.

For Bernoldi it is a big chance.

"This is a fantastic opportunity for me," he said. "When I had to leave F1 two years ago because of the Arrows situation, I was only 23 years old and still had a lot to prove. My future looked very difficult but we decided that the best thing to do was to stay in single seaters in order to maintain the racing, which is why I am competing in the very competitive World Series. I had a difficult first year as the team was new but I was pleased to achieve some poles and podiums. The team is now efficient and as a result, I am standing second in the Championship, with first place in my sights."