AUGUST 6, 2004
Williams explains the deal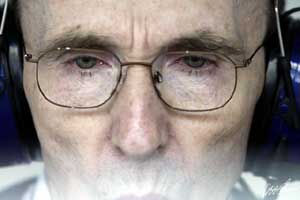 Sir Frank Williams has been explaining what happened to allow him to get Jenson Button as a BMW Williams driver in 2005 and 2006.

"The BAR option was invalid and not exercised properly," Williams told F1 media on Friday. "It all happened a few days before the German Grand Prix. Until then we had assumed that it was out of the question. It was a great surprise. It was an opportunity and we went for it. We have a contract with Jenson and we are of the opinion that BAR lost its opportunity to retain him. One fact is incontestable: Jenson wants and expects to drive for BMW Williams in 2005 and 2006."

Williams refused to go into further details but said that the BMW Williams team has had "a form of option on Jenson since the end of 2000". Williams added that this has been lodged with the FIA Contract Recognition Board since the end of 2002 and said that this "was subsidiary to the BAR option".

Williams refused to explain what went wrong with the BAR option on Button but we have heard from other sources that it relates to the timing of the announcement of the team's new deal with Honda. This took place at the German Grand Prix but we hear that Button's option with the team called for BAR and Honda to have a long-term agreement in place before Button's option was taken up. It appears that because the Honda announcement was delayed for some reason, the Button option was therefore taken up before all the elements of the deal were in place and that gave Button's management the chance to consider the situation and make an approach to Williams, which has the secondary option on Button's services.

Williams says that he rang David Richards of BAR only five minutes after he received a letter from Button's manager John Byfield explaining the situation.

"He was very disappointed," said Williams. "It was a big shock to him but we wanted to do it all behind closed doors. I said that I believed this his should be handled privately. We would like to resolve this amicably but we were pre-empted."

Williams added that there was not much discussion about money.

"The hand fitted the glove nicely," he said.

It has not been a good week for Richards because out in Australia the Prodrive-owned Ford Performance Racing team in the V8 Super series lost its star driver three-time champion Craig Lowndes for 2005 to rival Ford team Triple Eight Race Engineering, which is run by former Williams man Ian Harrison.