AUGUST 6, 2004
BAR says Button under contract in 2005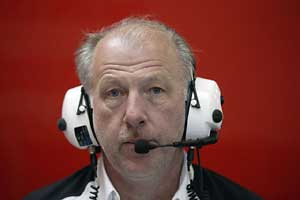 BAR has issued a statement making it clear that it believes that Jenson Button is under contract for 2005.

"Jenson is under contract with BAR for 2005," says team boss David Richards, "since we took up an option on his services only last month. At no time during the last few months has Jenson expressed anything other than his desire to continue working with BAR to achieve our collective goal of winning the World Championship".

At the German Grand Prix Honda confirmed its long-term commitment to BAR announcing the extension of their existing contract to at least 2007, with an even greater commitment of engineering resources.

"Their track record of 11 F1 World Championships clearly places them in an outstanding position to provide the resources to take the team and Jenson to the very top," the team said in the statement.

"It is our intention to enforce our current contractual position with Jenson," Richards said. "My duty is to the 400-strong workforce which has worked tirelessly over the past two seasons to give Jenson the car he has today; and to our partners, whose unfailing support and commitment to the team has contributed to the solid structure we now have in place. Unfortunately this is now a matter for the lawyers and I have every confidence that the legal process will confirm that yesterday's announcement has not only been premature but also invalid".