JULY 16, 2004
FIA reiterates Mosley's proposals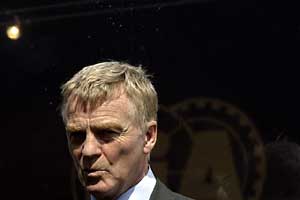 The FIA has reiterated the rules package put forward by Max Mosley from his recent press conference at Magny-Cours but at the same time the Formula 1 teams are looking at alternative ways in which to bring the Formula 1 lap times under control, without resorting to some of the more extreme measures being talked about by Mosley and his staff.

The whole process is being confused somewhat by the fact that Mosley will stand down from his role as FIA President in a couple of months and this may mean that the FIA will abandon his planned reforms. According to our sources there is to be a meeting of the FIA Senate in the next week in order to try to hammer out some kind of a solution for how the Mosley succession is going to be handled. There are several candidates for the role of FIA President for the period covering Mosley's resignation in October and the next scheduled election for the presidency in October 2005 but the general feeling inside the federation appears to be that there must be a show of public unity. This means that rather than having an election involving several candidates there is a considerable amount of back room horse-trading now going on between the various interested parties and that could mean that the federation ends up with a compromise candidate, which will obviously weaken the FIA's overall position. And at the same time there is lobbying from F1 to make sure that the Mosley replacement does not push ahead with the more radical ideas put forward by the departing FIA President which many do not consider to be necessary and accepts the compromise being forward by the F1 engineers.

Timing is all-important in this because the teams need to know immediately what to do about next year's cars and do not want to wait until October to get a set of regulations for 2005. They cannot agree on all of Mosley's ideas but most are willing to accept some of them. The question is whether or not Mosley can get everyone to accept his ideas before he departs. No doubt Mosley would like to depart with a final victory.