JULY 8, 2004
Silverstone-bashing, Part 324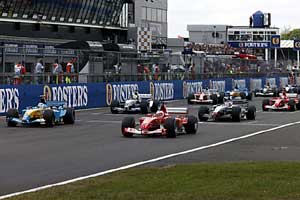 At this time of year in England one expects to see lush green hedgerows, long sunny afternoons and threats against the British Grand Prix. It is as predictable as the massive hype that precedes the departure each year from Wimbledon of local hero Tim Henman. And yet each year there is a British Grand Prix. Not only that, but each year when a threat is made against the race, someone at the BRDC gets up and compounds the problem but making some remark or other about how surprising it is that Silverstone is under attack, thus giving twice as much exposure to the issue.

There appear to be two reasons why this happens: one because of the personal antipathy between those in power in F1 and those in power at the BRDC and the other because Formula One Management wants Silverstone to change but no-one wants to pay for it. Silverstone is always singled out for punishment while other places like Interlagos, Canada, Monaco and even Magny-Cours are allowed to continue to have no infrastructure, shoddy facilities and poor access because they are accepted as being special cases. The BRDC complains that the British Government will not give it money to upgrade the race track or pay the race fees demanded, pointing out that most of the other races nowadays receive government aid in one form or another. No-one says that it is not the fault of the BRDC that the British government will not dare go near Formula 1 because of the scandal back in 1997 when a political donation to the Labour Party was portrayed in the media as an attempt to change the way legislation developed.

The whole issue of the British GP is fundamantally tiresome and portrays the sport in a very amateur way. It is time that those involved sorted out the matter once and for all. The Formula 1 teams are happy to race anywhere so long as the circuit is sensible and they can afford to do it. If London can sort out a bid for the race, all the better, if not Silverstone should be given a sensible deal and left to get on with it, as has happened with the French Grand Prix.