JUNE 24, 2004
Mosley corners the F1 teams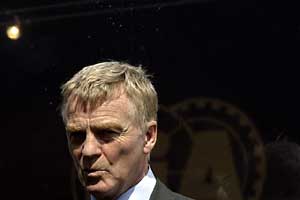 FIA President Max Mosley is planning to invoke Article 7.5 of the Concorde Agreement at the forthcoming FIA F1 Commission next Monday. This gives him the right to change the F1 regulations on the grounds of safety.

In a carefully-orchestrated series of leaks to the press in various countries, the FIA President has made it clear that he is not going to allow the current impasse in decision-making to continue and now wants his proposed 2008 regulations adopted next year. It s impossible to try to introduce 2.4-litre V8 engines next year but a large part of Mosley's programme can become a reality although decisions must be made straight away because the design of the 2005 cars is already underway. The move on Monday is designed to force a decision as there is a carefully-structured process by which this is allowed to happen. If the FIA invokes a change on the grounds of safety the federation has 60 days in which to come up with three alternative proposals for the F1 Technical Working Group to discuss. They then have 45 days to decided which route to take. However, the timing of the leaks is important because three months from now will take us to the end of September, a point at which it is far too late to start the design of a new car in time for the 2005 season.

"Formula 1's technical working group has been saying for more than two years that engine power needs to be reduced," Mosley said. "We have seen with Felipe Massa and Ralf Schumacher that speeds in F1 are dangerously fast. We have to act now."

This is alarmist talk particularly given that neither Massa nor Schumacher suffered any serious injury and the safety measures in the cars and at the circuits involved did their job admirably. However, it is difficult to argue against safety, if only because the federation can then turn around and cast any critic in a bad light because arguing against making F1 safer is obviously not the best form of public relations for any team.

This does not mean that there will not be opposition to the move but there is little that can be done except another long and expensive arbitration procedure at the International Chamber of Commerce in Lausanne, which would not take place until after the new regulations are in place. The danger of this would be that if the court ruled against the FIA, the Concorde Agreement would have been broken and then teams can in effect do as they please and might even lead to the possibility of a Grand Prix World Championship (GPWC) series as an alternative.

The issues involved are obviously much more than just safety. The sport has been plagued by a log-jam in decision-making for the last six or seven years and Mosley's move will be just another step in trying to save the sport from itself. In the end it is expected that there will be some kind of compromise with Mosley demanding more restrictions on tyres, reductions in aerodynamic efficiency and engines which will be used for two races.