JUNE 23, 2004
Michael is the top sport earner in the world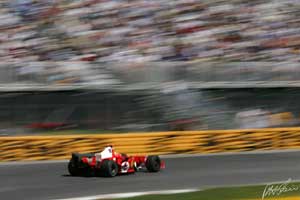 Michael Schumacher is the world's highest paid sportsman, at least according to Forbes Magazine in the United States. Schumacher's annual salary of $40m is well in excess of other, although golfer Tiger Woods is reckoned to earn around the same as Schumacher when merchandising and endorsements are taken into account. The two men are estimated to earn $80m a year. This put them fourth on the list of the world's highest paid celebrities behind actor/director Mel Gibson and TV presenter Oprah Winfrey (who both earned $210m in the last year) and novelist JK Rowling ($147m). Schumacher is ahead of such luminaries as director Steven Spielberg, actor Jim Carrey and singer Bruce Springsteen.

The other motor racing on the list are NASCAR drivers Dale Earnhardt Jr, 18th with $20.1m and Jeff Gordon 23rd with $19.3m. Ralf Schumacher is reckoned to be 40th with $16m a year.

The magazine says that the totals include salaries, bonuses, prize money, endorsements and appearance fees.

Despite being almost totally anonymous in the United States of America, Schumacher was ranked 16th in its annual Celebrity 100 list, which assesses the power of the celebrities by computing not only earnings but also media exposure.