MAY 24, 2004
Jacques Villeneuve and Toyota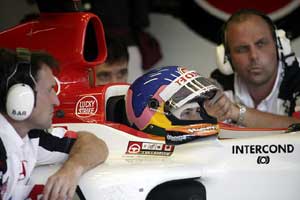 Jacques Villeneuve is very keen to get back into Formula 1 in 2005 and although most of the recent focus has been on whether or not the French-Canadian will be seen testing for BMW Williams within the next few weeks, we believe that he has much more of a chance of landing a job next year with Toyota Motorsport. We expect to see Jacques testing a car for the Cologne-based team before too long.

Villeneuve and his manager Craig Pollock were both in Monaco during the Grand Prix weekend but kept a very low profile, although there were almost certainly meetings with F1 team members in the course of the four-day event.

Toyota know that Jacques is not always the easiest driver to work with but also that he was as good, if not better, than Olivier Panis when the two were BAR-Honda team mates in 2001 and 2002. Villeneuve's biggest problem has been his motivation but if he can find his enthusiasm again he can be a formidable force. His presence in F1 is also a big bonus for the sport in North America.