MAY 17, 2004
A change coming at Jordan?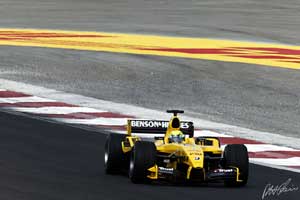 According to normally very accurate sources there could be a change in the driver line-up at Jordan Grand Prix at this weekend's Monaco Grand Prix, with Giorgio Pantano being replaced by either Jos Verstappen or Timo Glock. The Jordan team however says that the driver line-up will be as before and that Pantano will be kicking off his Monaco week playing in a soccer match tomorrow night. The rumours we have heard suggest that Pantano had to pay another installment after the San Marino Grand Prix and that this was not made and that the team gave Timo Glock extra time in the car at the recent test in Paul Ricard in case he takes over the drive.

It is possible, however, that both versions of the story are true and that there might have been plans to replace Pantano but that the money has since turned up.

No doubt all will be revealed one way or another in the days ahead.