MAY 11, 2004
Williams drivers in 2005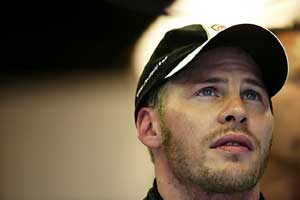 There is a lot of talk this week about BMW Williams running Jacques Villeneuve in a test. The talk, which seems to be coming mainly from Canada, does not seem to take into account any opinions expressed within the team, although officially the policy remains not to talk openly about who will drive next year.

"We had one conversation with Jacques," an inside source told us. "And we made it very clear that he was a long way down the list of possible drivers. That is it."

Thus it would seem that the stories about Villeneuve are either wishful thinking or a deliberate attempt to stir up interest in the hope that Jacques can revive his F1 career elsewhere.

The man most likely to be at Williams in 2005 remains Mark Webber. Jenson Button is not going to be in the team because the BAR-Honda team is performing well and he cannot get out of his contract - even if he wanted to do so. Webber also has a contract but Jaguar Racing needs to up its performance if it is going to keep the Australian.

There are many other options for Frank Williams and Patrick Head but they fall into three basic categories: rising stars, known talents and huge risks. The rising star market is thin on the ground at the moment but would include names such as Antonio Pizzonia, Felipe Massa, Anthony Davidson and Franck Montagny. The known talents would include Villeneuve, David Coulthard, Olivier Panis, Giancarlo Fisichella and so on. The huge risk category would include drivers outside the norm, as the team did a few years ago when it snapped up Jenson Button. This list would include Nico Rosberg, Vitantonio Liuzzi, Nelson Piquet Jr and perhaps even lesser-known stars such as Danilo Dirani, who is now beating Piquet Jr in British Formula 3. The other possibility for a huge risk would be an established name from another discipline. The team has already tried Scott Dixon from the IRL and there is a school of thought within the team that suggests that four-time NASCAR champion Jeff Gordon should at least be given a proper test. Running Gordon is a win-win situation for Formula 1 and for Williams but Gordon himself recognises that "it's mainly for sponsorship purposes". Having said that Gordon admits that if he received an offer from Ferrari or Williams it would "be hard to turn down" and he added that "I think my sponsors and car owner would understand."

He says however that he will only do it if the circumstances are right.

"I would only want to be in that position if I had that much testing time and time to get into shape"

Gordon plays down his ambitions and plays up the reasons why he would not want to try F1, but it is clear that he finds the idea intriguing.