MAY 4, 2004
Today's the day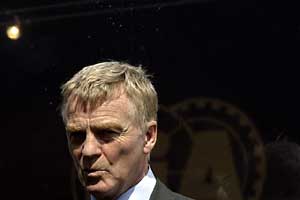 The Formula 1 bosses meet today in Monte Carlo to discuss FIA President Max Mosley's proposals for Formula 1 in 2008. The teams have little or no say in how these are formulated because the Concorde Agreement, the document that has controlled the sport for the last 22 years, runs out at the end of 2007 and a new agreement has not yet been possible. Mosley has made it clear that he is not interested in the same kind of arrangement and wants two separate deals: an organizational agreement between the FIA and the teams and a commercial agreement between the teams and the commercial rights holder. The FIA already has an agreement with the Formula One group, which holds the rights.

The attempt by the car manufacturers to start their own rival series has flopped because they were not willing to give guarantees and because the deal that was struck favoured the big teams to such an extent that the small teams in effect rose in revolt and threw out the proposals, making it impossible for the Memorandum of Understanding which was signed in December to be completed. The GPWC no longer seems to be an issue and it is now a question of who signs up for the new F1 in 2008 and who decides not to. The reality is that the teams have little choice although they do want a better financial deal from FOM, which at the moment gets around 70% of the income generated by the sport. That figure will need to come down and it is likely that if FOM refuses to play ball, the teams and the FIA could unite and force the issue.

The question at the moment is how much Mosley is willing to give way on his rule proposals (if at all) and whether or not the teams will commit. If they do agree to sign up the whole process could then be speeded up so that the new rules come into place in 2006.

The recent days have seen considerable lobbying of the major players and as the teams head for Monaco, it looks like Mosley has the support of Ferrari and BMW. Renault is sitting on the fence. Mosley also appears to have won over the Williams team, which would leave McLaren-Mercedes isolated.

We will learn more as the day progresses.