APRIL 29, 2004
Villeneuve and Williams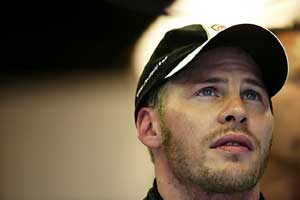 Jacques Villeneuve might be on the short-list for a drive at Williams in 2005 but only if the French-Canadian is willing to work cheap. Ralf Schumacher is certain to leave the team at the end of the year along with Juan Pablo Montoya, leaving Williams with two seats to fill. The top of the list was Jenson Button but he seems to be settled at BAR and has a performance clause which looks like keeping him there. The next choice is almost certainly Mark Webber and he has some contractual problems that must be sorted out. With Jaguar Racing currently seventh in the Constructors' Championship Webber may be able to get out of his contract later this summer but although the team has scored only once this year, the potential is there although Sauber and Toyota are still forces to be reckoned with.

There are other choices for Williams but a lot of them are drivers who have shown their weaknesses in the past (Villeneuve included) and it may be wiser for Williams to take a risk on youngsters.

There is no great need for speed at Williams as the other teams are going to have to keep their seats open until the Williams situation is sorted out.

"We have a list of drivers," says Frank Williams, "and I am not going to tell you who is on it!"