APRIL 19, 2004
Formula 1: must try harder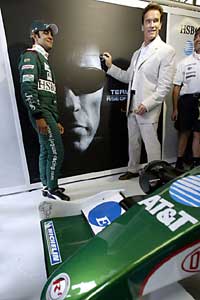 The Champ Car series got underway on Sunday at Long Beach and while the race was a rather dull affair with Paul Tracy leading all the way with Bruno Junqueira shadowing him, the new owners of Champ Car made an effort to attract some A List celebrities and came up trumps with movie star Tom Cruise and former Beatle Paul McCartney. Cruise was the passenger in the new two-seater Champ Car which led the field around during the pace laps prior to the start of the race.

It is a long time since Formula 1 had a star of Cruise's magnitude. In Bahrain there were a flurry of Kings and Princes in the paddock the last big Hollywood star in the F1 paddock was Arnold Schwarzenegger at Silverstone last year.

Surely if the ailing Champ Car series has the ability to bring in big names, Formula 1 should be able to do a better job than is currently the case.