APRIL 6, 2004
BAR results help sponsor hunt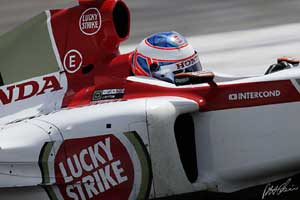 It is no secret that BAR needs a new title sponsor in 2006 or 2007 and thus the recent good results could be a major advantage as the team goes into boardrooms around the world. Getting new sponsorship in F1 these days in very difficult particularly if tobacco companies are involved as there are a large number of big corporations which will turn down any deal in which tobacco is involved. Thus it may be that BAR will need to change its ownership as well because team is currently under the control of British American Tobacco.

"We have a commercial strategy that is reliant on good results in the first part of the year," says team boss David Richards. "And we started that by building up expectations during the winter. Now we have delivered the results the marketing people will have a much easier life. We have three or four significant deals in the air at the moment.

"The team is coming together now. It proves that it is all about having a consistent plan and taking people with you. We should not be under any illusions because we still have a long way to go but we are coming to the fore."