APRIL 2, 2004
Button likely to stay at BAR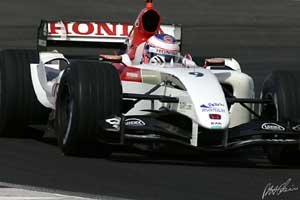 Jenson Button says that he is likely to stay at BAR next year even if Williams is making quiet noises about wanting to get its former driver back again. Button is high on Frank Williams's list alongside Mark Webber, Scott Dixon and Brazil's Antonio Pizzonia.

But Button is saying that at the moment he thinks that BAR is offering him a better chance of success. It may be part of the negotiating process but on the other hand it is always possible that Jenson actually believes that a BAR-Honda drive is a better idea than a Williams.

"I am already convinced in my own mind that I will be staying at BAR," he told the media in Bahrain. "I am pretty happy about that. It will be a great experience being with a team which is building up towards better things."

Whether or not that is his final decision if there is a concrete offer from Williams remains to be seen. For the moment at least there is no need for any decisions to be made as Williams is still several months away from making any decisions. That process is expected to begin when options dates come up at the start of July.