MARCH 6, 2004
Jeff Gordon to join Williams in Spain!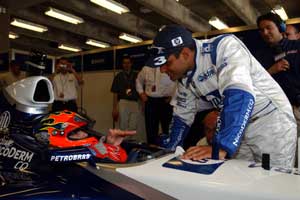 A crossed wire meant that we made a mistake about the race at which Jeff Gordon will be appearing as a guest of BMW Williams. It seems that the American will be appearing in Spain a little later in the year, rather than in Malaysia.

Gordon impressed the team last year when the four-time NASCAR champ did a promotional event with Juan Pablo Montoya, the pair switching cars and driving laps at the Indianapolis Motor Speedway

The team was highly impressed with Gordon's effort with team manager Dickie Stanford remarking that given a four day test Gordon would be right on the pace in F1.

Formula 1 would love to have Gordon to help promote the sport in the United States but Williams is realistic about the chances of such a deal ever being possible. There is more money available to Gordon in NASCAR than in F1.

Inviting Gordon to see the F1 circus in action will, of course, not do any harm in showing the American what life in the F1 circus is like.