FEBRUARY 13, 2004
Williams and Head fear Renault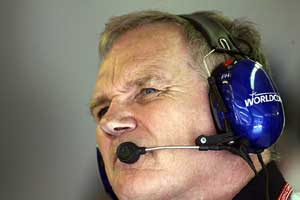 Frank Williams and Patrick Head reckon that the Renault team will be challenging for the World Championship this year.

"They look very strong," said Williams. "They have World Championship potential."

"Renault seems to have done a seamless job with the new engine," said Head. They look very strong."

Both men see Ferrari as the biggest threat to Williams's ambitions this year.

"Ferrari is an incredible class act," said Head. "While that group of people is there anyone who manages to beat them would have done a stunning job. I suspect a few people will give them a run this year."

Williams said that BAR looks strong and that Toyota made a great move "nicking Mike Gascoyne" from Renault.

But both men added that "you cannot write off McLaren."

Although Williams has been going very well in testing Head did admit that there had been problems with the transmission and that the team had spent some time "sitting in the garage looking at shrapnel" but added that the team "will get on top of the problem before Melbourne. Generally the car has performed pretty. It is considerably better than the FW25 and provides a platform with more development potential."

Head said that there are no plans at the moment for Williams to produce what will in effect be a second car this year.

Williams said that he does not see any problems this year with the motivation of the Williams drivers.

"I don't care who wins," said Williams, "so long as one of them does."