FEBRUARY 1, 2004
More about the BAR-Honda 006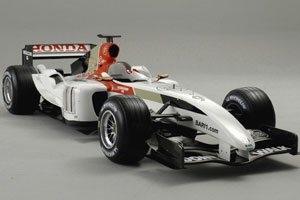 The technical team at BAR is very keen to go racing this year because of the optimism that the new 2004 package has engendered in the team.

"It has been a big challenge," says technical director Geoff Willis, "particularly with the tough new engine regulations, but has been 10 months in design and represents another milestone in our long-term strategy. Our main objective in 2003 was to establish a credible engineering base, and 2004 provides us with the opportunity to use that credibility and be innovative in design. We now have the extra resource of Honda engineers recruited into the BAR design team, and we are beginning to see the benefits of an integrated, stable engineering base. In addition, testing with Michelin has given us the confidence that we have made good progress this winter. By the time the first race comes around, we will have completed almost three times as much testing as in the same period last year, and that extra effort is already visible in our greatly improved reliability."

Honda has worked very hard to create a better and more reliable engine.

"We have extended our engine's life, while making it smaller and lighter with a lower center of gravity," says Honda F1 boss Takeo Kiuchi. "As for power, I am confident we will exceed our Suzuka level by the time we get to Melbourne. I am also very pleased to see that our chassis engineers are really beginning to have a positive impact on the car's development and are supporting Geoff's team well."

The drivers are also excited.

"It looks set to be a very exciting season for us," says Jenson Button. "Pre-season testing has been going really well and the highlight so far was setting the new lap record in Barcelona two weeks ago. We didn't disguise the fact that we were running low fuel but the purpose of the run was to gauge car performance in that trim. As you can imagine, we were very pleased with the result! The car is a major step forward and I feel very confident that the team isn't overstating its expectations for this year when we say we can fight with the top three teams. I think Taku and I will work very well together and hopefully we can look forward to the same kind of results we achieved in Japan. I think this year will definitely bring us podium finishes and, who knows, perhaps my first win as well."