DECEMBER 27, 2003
Review of the Year: World Champions - Scuderia Ferrari Marlboro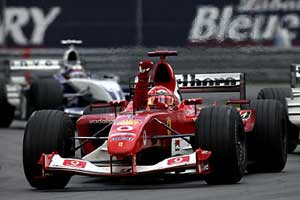 There are times when you wonder what it will take to stop Michael Schumacher winning the Formula 1 World Championship. This year he picked up his sixth title, his fourth in a row. Next year he will be the only World Champion racing in F1. Schumacher has broken almost every record that exists in World Championship history and even his harshest critics have to admit that he drives at a level way above all his rivals. The flaws that have always been there remain the same but Michael is simply better than the rest. He won the title in 2003 despite having obviously inferior tires for most of the year. Offset against that was the fact that the Ferrari was a much better car than most of the others, probably even better than the Williams.

But all this was hidden to the casual observer. For them it must seem that Formula 1 is deeply dull. The same man wins year after year, no matter what the rules say. The fact that Michael Schumacher and Ferrari came through and won in 2003 is testament to the team's enormous strength and also to its less wholesome side. In the midseason Ferrari was utterly humiliated in Hungary where Michael Schumacher was lapped by the winner Fernando Alonso. Ferrari's response was to stir up a heap of trouble about tires, claiming that Michelin was running illegal rubber. The French tires were not illegal and some of the Ferrari management was lucky to get away without being sued for slander.

Ferrari chose to interpret the rules one way; Michelin interpreted it another way; the other teams were forced to play it safe in the face of possible problems and while the whole business resulted in no action by the FIA, Michelin was knocked sideways, as it was intended to be, and the development programmes of the rival teams were disrupted badly. When the F1 circus got back together again at Monza Ferrari was suddenly competitive again. In part it was due to the circuit but there is no doubt that the disruption helped the Ferrari cause.

Down at Maranello they consider this sort of thing to be acceptable. The World Championship, they like to say, is like a war and to win you do whatever it takes. You take no prisoners. The rivals do not tend to fight in the same way although there are often rumors suggesting that Ferrari and the FIA enjoy a rather too healthy relationship. This is a ridiculous argument, because the FIA more than anyone other than Bernie Ecclestone knows that too much Ferrari success is bad for the sport, so helping the Italian team achieve success is counter to its best interests. Some people in F1 see conspiracies everywhere...

The funny thing about this is that when Ferrari finds itself on the receiving end of heavy tactics - as happened this year when the press went for the team at Monza - it does not like it. Ross Brawn, the architect of Ferrari's war-like philosophies felt that he had been ambushed in a press conference and did not like it. In fact he was very angry.

Well, if you live by the sword you should be prepared to die by the sword as well. It is no good bleating about it not being fair. All is fair in love and war...

The purists in the sport argue that Ferrari's single-mindedness is damaging to the sport. The team's absolute refusal to consider a testing ban upset a lot of people because it forced everyone to spend more money. Ferrari's biggest advantage is that it has two test tracks on hand at any given moment. But, in the fullness of time, such tactics will come back and hurt Ferrari. When a team embarks on a policy of winning at all costs, respect for the team as sportsmen is lost. Ferrari will pay in other ways: when a new Concorde Agreement is settled and new financial and legislative deals agreed, one can expect to see Ferrari suffer. Rival teams will gang up on Ferrari and outvote the team and the advantages will be lost.

Ferrari's ruthless approach has been hugely successful but the sport has paid the price, as was seen in Austria in 2002 and this year in the team's refusal to accept any testing ban. There were also the suspicions of espionage with Toyota. The stories first emerged in the Spring but Ferrari did not have enough evidence to back up the allegations. Nothing happened. At the end of the year Ferrari made an official complaint. The police raided Toyota but no charges came as a result of this. In other words there was still no evidence to back up the claims. Toyota paid the price with a huge amount of negative publicity despite the fact that nothing was proved. Very disruptive, especially back in Japan. Still, one must conclude that Ferrari is ultimately afraid of the financial muscle of the Japanese giant which is intent on buying its way to the World Championship - and can afford to outspend Ferrari.

And this is where the team has a long term problem because Ferrari does not have the financial power to be spending the kind of money that has been spent on F1 in recent years. Now that the company has shareholders there will be even more pressure to curb costs. The team can only raise so much in sponsorship and so in the end there need to be economic cutbacks. That will hurt research and development above all else and that will mean that gradually Ferrari will fall behind as others spend more. The irony is that the only way in which these trends can be reversed is with rule-changes!

Away from the politics one has to say that Ferrari did another extraordinary job. The cars were once again so reliable that it was almost embarrassing. Schumacher made more mistakes this year that he has for a long time and quite often Rubens Barrichello did better than his team leader but it was always clear that Rubens would do as he was told and that Michael would be the man to benefit. Towards the end of the year it is said that Barrichello received an offer to race for Williams in 2005 and turned it down because there was more money on offer from Ferrari. If this is the case, Barrichello has marked his card. At Ferrari he is very unlikely to ever win a World Championship but if he prefers to pile up money in the bank and miss out on the chance to beat Ferrari then his name will be quietly removed from a number of lists for the future.

Perhaps in a world where winning is everything and money appears to be power, such criticisms are not really relevant and we should simply appreciate greatness when we see it.

Hail Ferrari!