DECEMBER 16, 2003
Michelin promises even more competition in 2004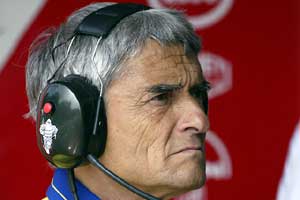 Michelin motorsport boss Pierre Dupasquier said he is very pleased by the progress in winter testing.

"Our teams have commented favorably on the progress we have made, particularly with regard to rear tIres. It has been a good start," Dupasquier said.

The major focus of testing has been with wet weather performance after disappointing results in wet races as compared to Bridgestone - notably at the United States Grand Prix when the rain washed away hopes for Kimi Raikkonen and Juan Pablo Montoya in the World Championship battle.

Next year McLaren and Williams should be able to present a stronger challenge to Ferrari in 2004 - no matter the weather.

Dupasquier said, "Our teams have been taking part in wet-weather test program. There has been a fair amount of rain at Barcelona, Valencia and Jerez. This worked in our favor because we wanted to evaluate our latest wets and didn't have to soak any of the circuits artificially."