DECEMBER 16, 2003
Sauber hope to gain advantage from $55 million wind tunnel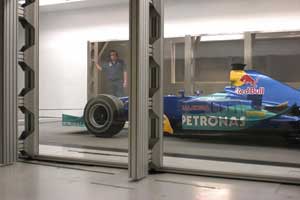 Swiss team Sauber-Petronas unveiled their highly anticipated ultra-modern wind tunnel today at their Hinwil headquarters. International media representatives were on site to view the spectacle that boasts a fan with a power consumption of 3000 kw, which outputs wind speeds of up to 230 mph. The facility also contains a "rolling road" in the wind tunnel as well as a data acquisition center, a Sauber museum, a hospitality section, and offices.

Sauber hopes to use this new facility to give it the edge it needs to be truly competitive.

"Aerodynamics is the primary factor affecting a modern Formula 1 car. Consequently the wind tunnel is the primary tool for creating a successful racing car," said Team Principal Peter Sauber, explaining his decision to invest $55 million dollars into the complex facility which is the company's largest project in history.

"With the top teams having made enormous progress particularly in this area in recent years, we have a lot to catch up on," Sauber added.