DECEMBER 12, 2003
British and French GPs swap dates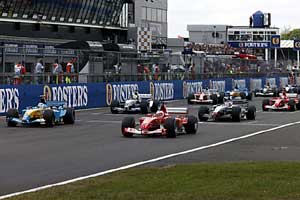 The British Grand Prix has been confirmed on its desired date of July 11 while the French GP has been moved to July 4. France has until the end of the month to make all the necessary arrangements to keep the race alive but not only is an agreement necessary with Formula One Management, but the French organizers need to get the agreement of all the Formula 1 teams in order for the race to go ahead. This means that the French must raise an extra $20m as the teams have all said that this is the money they want in order to include an 18th race on the F1 calendar. The reason for the payment is that the Concorde Agreement, the contract which governs the sport, covers only 17 races and thus an 18th must be considered as a separate commercial deal.

In real terms there is very little chance that there will be a French GP in 2004 unless a major backer can be found but $20m is an enormous price tag for an event which the least popular European event on the F1 calendar.

The only real hope is that the national government will step in with the money but there have been no signs of that happening...