NOVEMBER 9, 2003
Brazilian Grand Prix in big trouble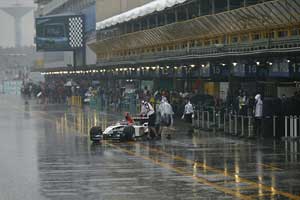 A court in Sao Paulo has ruled that the Brazilian Grand Prix, scheduled for October 24 next year, cannot be held because it wastes public money. Judge Joao Andres de Vincenzo, of the 12th district court, ruled that the contract between the city of Sao Paulo and the promoter, International Promotions, be suspended. If work towards the Grand Prix continues, the judge ruled that the promoter would be liable to a fine of $17,000 a day. The Prefecture of Sao Paulo says that it will appeal the decision.

The strange move would seem to be part of the battle to have the race switched from Sao Paulo to Rio de Janeiro, although there are problems in Rio as well as the city's mayor Cesar Maia has just confirmed that the Jacarepagua circuit will be the site of the athletes' village for the Panamerican Games in 2007. The aim is to then use the facilities that will be constructed to bid for the Olympic Games in 2012. The Olympic decision will not be made until July 2005 and Rio is up against opposition from Havana, Istanbul, Leipzig, London, New York, Madrid, Moscow and Paris. Rio says it will invest $3.1bn in infrastructure if it wins the Olympic bid and another $1.6bn in sports facilities. The circuit may be kept but work around it will mean that it will out of action for at least 18 months.

As South America has never hosted an Olympic Games the Rio bid is expected to be very strong.

The canceling of the Grand Prix contract means that, as of now, there will not be a Brazilian GP next year and the FIA World Council will need to consider what to do when it meets in December. In all probability the date will be made provisional on a solution being found.