NOVEMBER 7, 2003
Canada is still fighting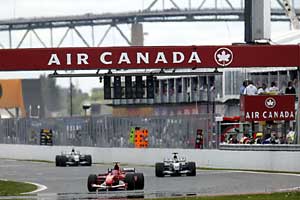 The Canadian Grand Prix may still happen in 2004. The organizers of the race are trying to find an extra $20m to pay the Formula 1 teams to attend the event. The race was included on the World Championship calendar on a provisional basis, on the understanding that it would only go ahead if an agreement could be found with the teams.

As the race is not covered by the Concorde Agreement, which allows for only 17 races, the teams demanded a separate deal which would pay each of them around $2m. The teams refused to run in Montreal after the local government banned tobacco advertising and sponsorship but the need for a second race in North America was felt to be important enough to try to find a different solution.

It is worth noting that it is in the interest of the teams and Formula One Management that the event does go ahead as it will provide a useful precedent for other races seeking to run without tobacco sponsorship - and will increase the fees that can be gathered from such events.