OCTOBER 27, 2003
Little chance of a Mercedes-Benz deal for Jordan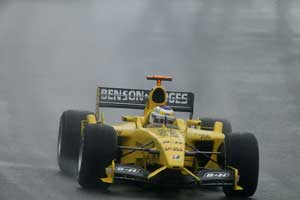 Mercedes-Benz is not planning to supply Jordan Grand Prix with engines in 2004 - not least because Jordan has a two-year agreement signed and sealed with Cosworth Racing. Although Jordan has been complaining about the cost of the Cosworth engines for next year we understand that the engine deal on offer from Cosworth is very reasonable. Jordan's beef is that he believes that in January this year the manufacturers agreed to supply the teams with Euro 10m engines. Eddie seems to be the only team boss who is under this impression as all the others remember only a vague commitment, based on a deal over the commercial future of F1.

Jordan's finances are actually not in too bad a state given that he is going to keep Benson & Hedges for another season. This deal is believed to be worth a minimum of $12m and with further backing from Ford Europe (believed to be $5m) and the money which comes from TV revenues (something in the region of $15m and perhaps more given that Giancarlo Fisichella won a race this year), Jordan has the basis of a workable budget. In all likelihood he will go for two drivers with financial support (taking on a British driver mean could mean an increase in Benson & Hedges money) and that will add around another $10m to the budget.

With a few minor sponsorships added, Jordan should have a budget of around $45m next year. This may not be as much as Eddie would like to have but it is plenty to run a team, providing that the team does not build a new car. In order to fit a different engine (if any were available) Jordan would need to invest in a major rebuild of the existing car - which would add to the cost considerably.

We hear that Jordan continues to chase other money with a major bid going on for backing from Lubrax, the oil brand of Petrobras. The Brazilian fuel company supports Williams but supported Jordan between May 2001 and the end of 2002.