OCTOBER 27, 2003
Johansson is a winner with RH-R!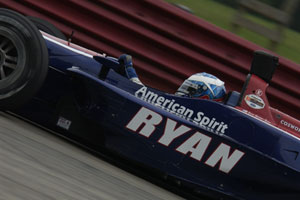 Former Ferrari and McLaren F1 driver Stefan Johansson has been running his own CART team this year with rookie driver Ryan Hunter-Reay and Jimmy Vasser in the American Spirit entries. It has been a learning year but at Surfers Paradise on Sunday Hunter-Reay came through a rain-disrupted race to give the team its first victory and with Jimmy Vasser coming home third it was a great day for the team - although Hunter-Reay ended the day crashing on his slowing down lap. With the Surfer's win and a third place finish at Mid-Ohio, Hunter-Reay is proving himself a man to watch.

For the second year in succession the event was hit by torrential rain storms and had to be stopped after 14 laps. When the rain eased the race was restarted and Hunter-Reay, Darren Manning and Vasser, who had started 12th, 14th and 15th, came through to win thanks to pit stop strategies which fitted the moment perfectly.

Paul Tracy won his first CART title despite finishing only 13th after being bumped off at the first corner by Sebastien Bourdais, team mate of Tracy's title rival Bruno Junqueira. Tracy lost a lap but then fought his way through the field. Junqueira led with Bourdais protecting him until the Frenchman spun out when the rain increased. The race was then stopped. At the restart Tracy moved up to seventh place but was then involved in a bump with both Alex Tagliani and Manning. This left Tracy with a damaged right rear suspension and it looked as though the title would be going to Junqueira. He was overtaken by Michel Jourdain Jr. and Adrian Fernandez followed him through. A series of pitstops dropped Junqueira back to seventh and on lap 37, under pressure from Patrick Carpentier (Tracy's team mate) Junqueira hit the wall and retired which handed the title to the struggling Tracy.