OCTOBER 15, 2003
The Formula 1 calendar goes to 18 races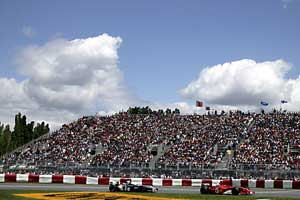 The World Motor Sport Council has agreed to increase the F1 World Championship from 17 to 18 races next year. If this happens it will be the first time that the series has had as many events.

The race that has been added is Canada, the organizers having raised a huge amount of money to lure F1 back without tobacco sponsorship. The event has, as expected been put into the June 13 date, just a week before the United States GP at Indianapolis. This means that the San Marino GP has gone back to its normal date at the end of April and there will now be a one week gap between Monaco on May 23 and the European GP at the Nurburgring on May 30.

The rest of the calendar is unchanged although China, Bahrain, Canada and France remain provisional. China and Bahrain need safety clearance for the new circuits; France needs to sort out financial troubles with Bernie Ecclestone and Canada needs to settle the financial terms with the F1 teams resulting from the absence of tobacco.

This may not be as easy as it seems as the teams are pushing for a payment of $2m apiece to have an extra race.