OCTOBER 15, 2003
Fisichella to return to tintops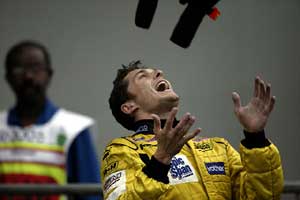 Giancarlo Fisichella has some time off between F1 contracts and so is planning to have some fun this weekend at the wheel of a works Alfa Romeo in the final round of the European Touring Car Championship at Monza. In its attempts to win the Drivers' title for Gabriele Tarquini, Alfa Romeo will be running a five-car squad, including Nicola Larini, Roberto Colciago and James Thompson.

Tarquini is fighting for the title with Jorg Muller of BMW Team Deutschland. They have won six and four rounds respectively, and are joint leaders with 96 points each.

Fisichella raced touring cars for Alfa Romeo in the International Touring Car Championship in 1995 and 1996 before concentrating full-time on Formula 1.

The race at Monza will also mark the return to racing of Alex Zanardi, driving a hand-controlled BMW for Roberto Ravaglia's BMW Team Italy-Spain.

The 24 car field includes two other title challengers: BMW Team Great Britain's Andy Priaulx, who is seven points behind, and Larini, who is two points down on Priaulx. BMW needs only two points to claim its 12th European Touring Car Manufacturers' title.