OCTOBER 9, 2003
Could there be 18 races in 2004?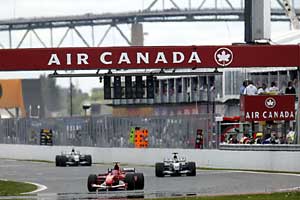 There has been talk in recent days that the Formula 1 team bosses might agree to having 18 Grands Prix next year to allow Canada back on to the World Championship calendar. It seems that the Canadian promoter Normand Legault was told to raise more money and F1 would return and we hear that he has done this rather successfully. The problem is that the teams are saying that to make it worth their while they each want $2m for an extra race and that would mean that Formula One Management would have to kick in another $20m. In order for an 18th race to take place all the teams would need to agree and that almost never happens as team bosses tend to use such situations to try to force through things that they would like to see.

Putting Canada back on the calendar makes a great deal of sense - if only because it would increase F1's visibility in North America and cut costs of the United States GP as the two events would be able to share costs - but the teams seem to be more interested in losing France and thus getting Canada back in.