OCTOBER 7, 2003
Why did Villeneuve get the F1 bullet?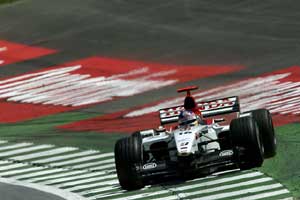 Jacques Villeneuve is out of Formula 1 and he is not going to get back in unless his manager and chief defender Craig Pollock becomes a team owner again.

"I still regard him as a great racer but he needs a team that would give him extra motivation," Bernie Ecclestone told The Sun newspaper. "Toyota would have been the perfect platform for him because they could give him a car capable of winning races. I even suggested he should go to Ferrari and drive alongside Michael Schumacher for free. But it didn't come off because Michael insists on No 1 status."

But when all is said and done Villeneuve's crime this year was that he did not emphatically outperform his BAR-Honda team mate Jenson Button. Part of that can be blamed on mechanical failures but when the cars have been running well it has been Button who has made more of the opportunities that have presented themselves - and in Formula 1 that is all that it takes these days.

Villeneuve has also been suffering from last year's contractual discussions. Jacques says he was never offered a compromise deal by BAR but the team seems to think otherwise and one can only guess that with a third party involved the lines of communication were blurred. It is perhaps significant that this year Pollock was only involved when it came to money and that prior to that Richards and Villeneuve talked directly.

The logical thing 12 months ago was to have converted the expensive one-year deal into a three-year deal which paid Villeneuve more but over a longer period of time. This is what Richards wanted to do in order to give the team more finance to put into research and development. As a result Villeneuve stayed at BAR in 2003 but Takuma Sato was brought in as the team's third driver and it was clear that Honda wanted its protege to be in the right place in preparation for the right moment.

Sato is a good deal for BAR because his presence guarantees not only added interest from the Japanese but also extra finance, in terms of pure sponsorship revenues. Thus David Richards's choice was to pay Villeneuve or to be paid to take Sato and, at the same time, strengthen his ties with Honda, a major motor manufacturer. In the end there was no choice. Sato is not by any means a sub-standard pay driver. He has proved his worth at Jordan and only lost out on a drive this year because Jordan needed to take money. His decision to become BAR test driver was sensible and he has performed his role well. There are some within BAR who question whether he is as good as Villeneuve but he is good enough to be where he is on merit and will develop more. He is also Japanese and that not only keeps Honda happy but also opens the way for sponsorship deals with other Japanese companies. There may be a recession on but big companies in Japan still have plenty of money if the right opportunity presents itself. BAR knows that.

Richards did give Jacques a chance and made him an offer but Jacques and Pollock came back with a counter-offer which was obviously not one which was of much interest to Richards. The decision to drop Villeneuve will have had to have been cleared with British American Tobacco and the fact that BAT did not insist on Villeneuve must also be taken into account.

It is not the first time in the history of the sport that a World Champion has felt that he had more value than a team was willing to pay but Villeneuve and Pollock have never been great students of the sport's history. If they had been, it is unlikely that Villeneuve would ever have been involved at BAR, repeating the mistake made by Emerson Fittipaldi back in the 1970s when he walked out of a top team and tried to win with his own team. The result on that occasion was that Emerson lost all the money he had earned in his career. Villeneuve leaves F1 with a healthy balance sheet, having snaffled up something like $60m in salary from BAR in the course of the last five seasons.

Formula 1 looks like it has lost a great character and a good racer. There are always those who will argue that Villeneuve had an over-inflated view of his worth and that at Williams he was lucky to walk into a top drive and win (or perhaps one might say not lose) a World Championship before spinning off into a new team loaded with money, which gave him a warped picture of the F1 economy but, at the same time, one must remember that when Jacques was out on a qualifying lap there was always a little extra excitement in the air...