SEPTEMBER 22, 2003
Who would take part in a BAR shootout?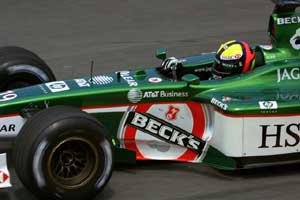 The stories last week about a shoot-out for the second seat at BAR if Jacques Villeneuve does not agree terms with the team were rather confused but our spies at BAR are now telling us that if BAR and Villeneuve do not reach an agreement there will be four drivers under consideration for the drive alongside Jenson Button: Takuma Sato, Anthony Davidson, Bjorn Wirdheim and former Ferrari test driver Luciano Burti.

If our sources are correct Burti is the only surprise. The 28-year-old Brazilian was very successful in the junior formulae in the late 1990s and began his F1 career as a test driver with Stewart Grand Prix in 1999. In 2000 he was Jaguar's test driver and stood in for Eddie Irvine when the Ulsterman was forced to miss the Austrian GP because of illness. At the start of 2001 he drove for Jaguar but was then transferred to Prost Grand Prix when it became clear that Jaguar had signed a long-term deal with Pedro de la Rosa, the Prost test driver. Burti looked promising on occasion but at Spa was pushed off the track by Irvine and had a huge accident which put him out of action. Prost disappeared at the end of the year and so Burti spent 2002 as Ferrari test driver but this year has been without major work although he has done some Ferrari tests when extra drivers were needed.