SEPTEMBER 5, 2003
Zonta looking for work in CART?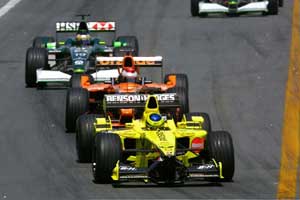 There are whispers that Toyota Formula 1 test driver Ricardo Zonta wants to get back into competitive racing and is trying to put together a deal to take part in the last four Champ Car races this year in Miami, Mexico City, Surfers Paradise and Fontana. The 27-year-old from Curitiba has been out of the spotlight since the end of 2000 when he was dropped by BAR. He was the Jordan test driver in 2001 and then moved to the Telefonica World Series in 2002 and won the title, earning himself the job of Toyota test driver this year.

Once hailed as a great rising star, Zonta won the 1997 European Formula 3000 title after a season-long battle with Juan Pablo Montoya and was signed by McLaren to do development work, being placed in BAR by McLaren in 1999. In Brazil he suffered a big accident when something broke on his car and he missed several races because of a broken ankle but gradually became competitive with Jacques Villeneuve when he returned to the team.