SEPTEMBER 3, 2003
Some confusion at Michelin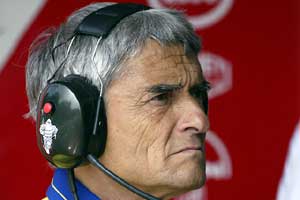 Michelin's attitude towards the FIA warning about tires has been rather confused in recent days with Pascal Vasselon, the head of the F1 program, quoted in Gazzetta dello Sport on Tuesday saying that the Michelin teams would appear at Monza with tires manufactured to the same design concept which have been used all season.

"If the FIA wants to disqualify 10 cars from the final results, then go ahead," Vasselon said. "The tires for these Monza tests were manufactured in the days immediately after the Hungarian Grand Prix, and there was clearly not time to change them."

Later however Michelin issued an interview with Pierre Dupasquier which said that "the new interpretation of the rules by the FIA has forced us to react. You don't think for one moment that Michelin would not respond to the challenge? Our people have been working 24 hours a day since last Wednesday, and new tires are being tested in Monza as we speak. For anyone that knows anything about the tire world, to do what we've just managed is a huge achievement, and this is only possible thanks to the hard work and fast reaction time of our teams here in Clermont-Ferrand."