AUGUST 4, 2003
The politics of the Formula 1 calendar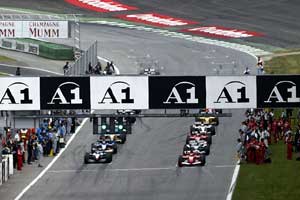 When you take a look at the 2003 Formula 1 World Championship calendar you see 16 races. From this you can strike out Austria as a candidate for 2004 because, even if the Formula 1 circus wanted to return, the circuit at Zeltweg is being rebuilt. That takes the total down to 15. Add to this the two new races being planned in 2004 in Bahrain and China and the total goes up to 17. And then add the Belgian Grand Prix, which local politicians say with certainty is now going to return to the calendar. So there are 18 races in 2004.

The only problem is that the Concorde Agreement dictates that there must only be 17 races in a year and, as we have seen often in the past, changing the Concorde Agreement is not an easy thing to achieve as the signatories tend to be opportunists by nature and the need for 100% agreement on anything means that they take advantage of such situations to try to get other concessions.

So while some would like there to be 18 races on the calendar, it is not likely to happen, even if as some suggest the race weekends are slashed to two-day meetings. This could happen but the promoters of events and their local supporters are not going to be keen, because two-day meetings mean that the economic impact of the F1 circus will be reduced dramatically: hotels will no longer to able to get away with five-night minimums and restaurants will lose out on the extra evenings on which they can double their prices. This will make it even more difficult for promoters to make races financially viable as local government will balk at investing if the paybacks are not sufficiently enticing.

This means that, all things considered, one race has to go in 2004 and it is not clear which one this will be. Imola is looking shaky but we hear that a date is still being offered to the Italians on the understanding that they commit to a substantial rebuilding programme at the Autodromo Ferrari. At the moment Imola does not have the money needed to make that commitment.

Silverstone remains under threat because of the ongoing battle between the F1 authorities and the British Racing Drivers' Club. Dropping the British GP would sort out the problem because once the race was off the calendar a solution would not doubt be found (as has just happened in Belgium). To do this Bernie Ecclestone would have to weather some heavy criticism but that is nothing new and ditching the Silverstone event in 2004 would kill two birds with one stone.

But Silverstone is not the most unpopular event in F1 circles. That honour, according to a vote at the recent team bosses meeting, goes to Brazil. The problem with dumping Brazil is that there would be no race in South America and that could impact seriously on the TV audiences. F1 is trying to build up interest in F1 in the region and having no races down there would not help.

The least popular race in Europe appears to be the French Grand Prix at Magny-Cours but there does not seem to be much that can be done about that at the moment as contracts are all in place and it is wise not to mess with the French governnment.

Still something must happen and even the toughest cookies can crumble. Indianapolis appears not to have been too keen on the idea of a race in June but the suggestion that there might be a race in San Francisco in the planning stages seems to have changed Tony George's mind and his race will now twin with Canada. In recent days there have been a lot of stories about Canada being dropped but this does not seem very likely although the stories may help to convince the Canadians that they must move to an earlier than normal date.

Politics is the art of the possible and right now anything seems to be possible. A draft calendar for 2004 is needed and someone has to give...