JULY 27, 2003
Montoya to McLaren?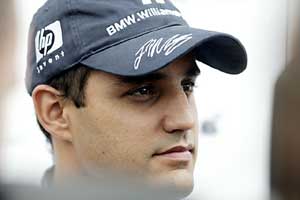 The latest rumor in Formula 1 circles is that McLaren is making a bid for BMW Williams driver Juan Pablo Montoya. It is has been clear for some time that the Colombian was not happy with Williams - and that the team is not particularly happy with him. In part this is because Montoya came to F1 with such high expectations and failed to live up to them. The team knows that Montoya has the natural talent to do the job but it was felt in Grove that he relied too heavily on that rather than applying himself all the time. It did not help matters that Montoya has made several serious mistakes this year.

The first suggestion that McLaren might be moving in came a few days ago in Silverstone where there were hints that David Coulthard's future with the team is doubtful. It had been thought that McLaren would take up DC's option but there is now some doubt as David has not been competitive in qualifying in recent races.

A Montoya-Kimi Raikkonen line-up at McLaren would certainly be impressive, particularly if the team can extract more from Montoya. This opens the way for a new driver at Williams but at the moment there is no real indication as to who this could be although the name Mark Webber is believed to be in the picture thanks to his strong showing this year at Jaguar Racing. Webber recently renewed his contract with Jaguar but F1 contracts are never worth very much and if an offer is made there would almost certainly be a negotiated settlement between Williams and the Australian. There are however a number of other options open to Williams, including test driver Marc Gene, former test driver Antonio Pizzonia and Giancarlo Fisichella.

The interesting question is what will happen with Coulthard and that is likely to shuffle the F1 pack still further in the months ahead.