JULY 21, 2003
Wilson, Kiesa moves confirmed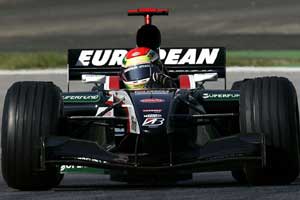 As predicted by Grandprix.com yesterday, European Minardi have announced that effective immediately, Justin Wilson will be moving to Jaguar Racing and F3000 driver Nicolas Kiesa will take over the vacated seat at Minardi.

Paul Stoddart said, "It's a case of 'mixed feelings' when it comes to Justin's departure from European Minardi. We are obviously sad to lose him, but pleased, and proud, that he has been able to demonstrate his undoubted driving talent at Minardi. A move to Jaguar Racing gives him the opportunity to develop his talent further and, at the same time, benefits Minardi enormously, as it helps to assure the team's future in Formula One. Like Fernando (Alonso) and Mark (Webber) before him, Justin is now clearly on his way. This also clearly illustrates one of the invaluable roles that the smaller, independent teams fulfil in this sport: they are able to give young drivers the opportunity to showcase their talent and establish themselves as Grand Prix stars of the future. Looking ahead, we welcome Nicolas to the team. He comes with impressive racing credentials, and all of us at European Minardi Cosworth look forward to working with him."

Justin Wilson said, "I am immensely grateful to my Minardi boss, Paul Stoddart, for having enough confidence in me to give me the drive this year and for doing an amazing job on so little money, giving me the opportunity to learn about Formula 1."

"I can't wait to get in the car at Hockenheim. Of course it's not going to be easy jumping straight in but I'm absolutely determined to reward the team's confidence in me. Jaguar have such a fantastic motorsport heritage and I'm just so very proud to have this opportunity to join the team."

Denmark's Kiesa (25), has been driving this year in Formula 3000 with the Den Bla Avis team. Kiesa won the Formula 3000 race in Monaco after Bjorn Wirdheim stopped before the finish line to wave to his team. Kiesa has considerable backing from Peugeot.