JULY 20, 2003
Wilson to Jaguar in Germany?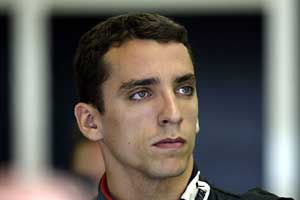 The rumor sweeping through the Formula 1 paddock at Silverstone was that Minardi driver Justin Wilson could be moving to Jaguar racing within a matter of days, to replace Antonio Pizzonia. The various parties involved are saying nothing at the moment but we believe that a deal is close although Pizzonia's management is threatening to stop the move with legal action.

We have heard reports that Wilson made a clandestine late-night visit to the Jaguar Racing factory a few days ago to see if he fits in the Jaguar chassis and it seems that there were no problems. The stories, which seem to be coming from Jaguar itself, are a follow-up to the saga in Barcelona where Pizzonia's future with the team appeared to be threatened.

At the time the man most likely to replace him was Alexander Wurz but stories in recent days that the Austrian is to join Jaguar next year seem to have been a red herring to throw people off the scent of the real story. It is expected that if the Wilson move is going to happen there will be an announcement shortly. If not the deal will not be happening.

It is not currently clear what will happen at Minardi if Wilson does move on but we have heard whispers in recent days that Italian Gianmaria Bruni may be sniffing around for a drive of some sort with the Faenza-based team.