JULY 17, 2003
How Formula 1 has helped the British Army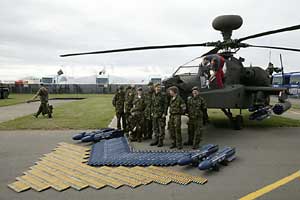 Formula 1 technology has been used in recent months to help the British Army become more efficient. The cooperation began a year ago when Brigadier Richard Folkes, Director of Army Aviation, decided to investigate if techniques from Formula 1 pit stops could be applied to refueling the British Army's fleet of Augusta Westland Apache helicopters at an Apache Forward Arming and Refuelling Point (FARP). Keeping the Apaches in the air is important as it means that the helicopters can fly more missions and present less of a target.

An FIA consultant engineer, Nick Wirth, visited the School of Army Aviation at Middle Wallop in Hampshire to study how the ground crews operated and this visit was followed by visits from military personnel to races to see how refueling was done in the races.

This has resulted in the army cutting the rearming and refuelling time of an Apache by 50%, a major saving. Formula 1 has also provided the Army Air Corps with an insight into lightweight protective safety clothing for the ground crew.

"I am delighted that cutting edge motor sport is able to offer significant technology transfer to the British Armed forces," said Geoff Hoon MP, Secretary of State for Defence. "I would like to thank Max Mosley and all of those involved from Formula One for their interest and help".

This is a very well-timed piece of publicity given the announcement last week that the government is help the British motorsport industry with funding.