JUNE 27, 2003
Massa and Ferrari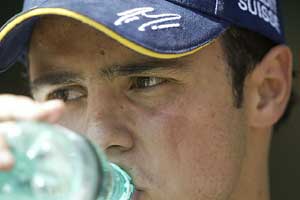 One rumor doing the rounds at the Nurburgring was that Felipe Massa could be moved into the second seat at Ferrari in 2004 and that Rubens Barrichello may end up being offered a drive as the number one at Sauber.

This would be an opportunity for Rubens to come out from Michael Schumacher's shadow while also giving Ferrari the chance to bring on Massa as a possible replacement for Schumacher in 2007.

We have also heard that Massa's contractual arrangements have been reworked to allow this to happen, with Massa signing a long term Ferrari contract. A switch of Barrichello to Sauber would also improve the Swiss team's chances of landing big sponsorship deals, particularly in South America. As usual there is no-one willing to say anything on the subject.