JUNE 18, 2003
BRDC rejects Ecclestone criticism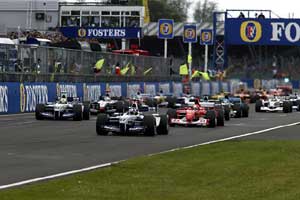 The British Racing Drivers' Club, which owns Silverstone, has hit back at comments made about the venue by Formula 1 boss Bernie Ecclestone, calling them "totally unwarranted" and saying that Ecclestone does not attack other circuits, "some of which Mr. Ecclestone has an interest in". Martin Brundle and Jackie Stewart, chairman and president of the BRDC said that the criticism was "predictable".

The duo said that the scheme to build new pits was abandoned because of pressure from the FIA to get the road access to Silverstone sorted out and aid that this work was achieved with "considerable positive public and customer reaction". Further work in the amenities has been carried out since last year and there is still the long term goal of a new pit and paddock complex.

The duo were keen to point out that the money spent was not used for the benefit of the BRDC and its members.