JUNE 18, 2003
A mystery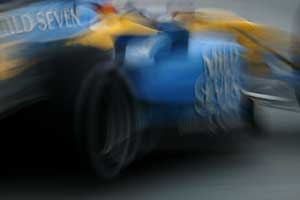 There are many in Formula 1 who are trying to work out a mystery which emerged from the Canadian Grand Prix weekend: How did Fernando Alonso manage to set the fastest lap of the race in his Renault? On paper this was not very likely to happen, and before the race Renault itself was keen to play down the team's chances on the Circuit Gilles Villeneuve.

"The layout is essentially made up of hard acceleration and heavy braking which makes it extremely demanding for engines and the brakes," said Renault engineer Fabrice Lom in a Renault preview. "You need a powerful engine and good torque at low revs in order to get good drive out of the corners. On the chassis side, the car needs good traction exiting slow corners."

There is no doubt that the Renault does have good traction exiting slow corners but even the Renault engineers admit that the wide-angle V10 engine does not have the same sort of horsepower as some of the other teams. Alonso himself went into the Montreal weekend saying that "the track doesn't really suit our chassis and our engine" and yet he came away from Canada with the fastest lap of the race, a time set just before he refuelled for the second time.

It is safe to assume that the car was empty at that point but that fact raises another question: if the car could lap that fast in the race when on empty tanks how on earth did Alonso manage to set the same time when he had a full fuel load in qualifying? The car must have been full in qualifying because it ran for 26 laps in the race, five more than race winner Michael Schumacher. Almost no-one else managed to match their qualifying times in the race, except those who had not qualified well. The fastest race laps of Juan Pablo Montoya and Michael Schumacher were both three-tenths slower than in qualifying while Rubens Barrichello was 0.8s down and Ralf Schumacher's best lap was a full second slower than he had managed in qualifying. There is no doubt that the fact that Michael Schumacher slowed his pace enabled Alonso to close up on those ahead and so Renault was flattered by the result but this does not explain the extraordinary pace in qualifying.

Other team's engineers are working to try to figure out how this is all possible so that they can do the same thing.

"The problem at the moment," said one, "is that we just don't understand how they can do it."

There is no magic in Formula 1 and so presumably it will not be long before someone comes up with an answer...