JUNE 18, 2003
Trading tobacco for mobiles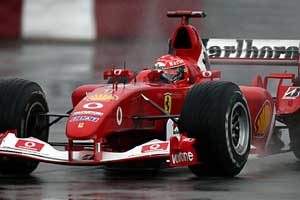 The impending announcement that NASCAR is to switch its title sponsorship from Winston cigarettes to the Nextel cell phone company is an indication of what is likely to happen in the future when Formula 1 is forced to give up on its tobacco dependency in 2005 or 2006.

Ferrari, which is funded largely by Marlboro, is already moving down that path as some of the space on the car (which is completely owned by Marlboro's parent company Philip Morris) has already been sold on to Vodafone and it is anticipated that when Marlboro comes off the cars Vodafone will take over as the team's major sponsor.

The other F1 teams currently relying on tobacco money are McLaren (West), Renault (Mild Seven), BAR (Lucky Strike) and Jordan (Benson & Hedges). Williams, Jaguar, Toyota, Minardi and Sauber are all tobacco-free teams: Williams and Toyota are backed by computer and electronics companies and Sauber and Jaguar by banks, while Minardi is struggling for money.

The interesting thing in the case of NASCAR and Nextel is the speed with which a replacement sponsor has been found. NASCAR was only informed of Winston's desire to leave the sport in February and a major new sponsor has been found in just four months. Given the current economic climate this is remarkable and clearly highlights the benefits that a company can gain from sponsorship at this level. That will be good news for the F1 teams who will soon have to find replacements for their tobacco backers.

The NASCAR deal will probably cost Nextel something like $60m a year although it is not clear how much of this money will go directly to NASCAR and how much will be spent on promoting the sponsorship. The problem for NASCAR is that the title sponsorship deal may well mean that other mobile phone companies will stay away from the series. This is not going to be a problem for F1 where companies back individual teams and are in competition with one another.

The F1 package also allows rival companies to buy trackside signage but Allsport Management, which sells the trackside advertising, has a general policy of not mixing the signage. Thus some races are "Orange races" and some are "Vodafone races".