JUNE 11, 2003
Gordon impressed by F1 power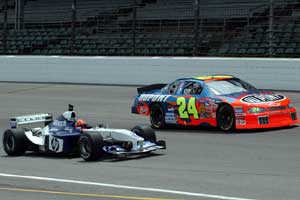 The much-vaunted switch of cars between Juan Pablo Montoya and Jeff Gordon went ahead as planned on Wednesday at Indianapolis Motor Speedway with the pair doing a handful of laps each in the other's racing car.

"I really enjoyed myself," said Montoya. "The NASCAR moves around a lot more than the F1, it is much more active, but it also gave me a very good feedback. Once I underestimated the weight of the car when I saw a corner and thought I would make it, but I was braking too late and ruined a tire. Also I found the power of the engine impressive."

Gordon too was impressed.

"I really cannot describe the great feeling I had," he said. "The corners come up so fast, and the car brakes so well and turns so well, and at the exit of the corners it grabs it up and just goes. It is unreal, like slot car racing. I drove full throttle on the straight and got pressed into the seat much more than I would have imagined. My neck is sore after only a few laps."