MAY 9, 2003
Former winners to appear in Austria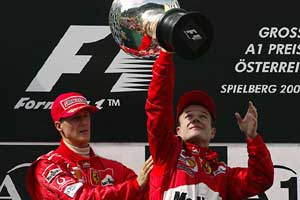 This is likely to be the last Austrian Grand Prix for some years and as a result the organizers have invited all the drivers who have won the race to attend. Of those who have won the event, which dates back to 1964, Jacky Ickx (The winner in 1970), Emerson Fittipaldi (1972), John Watson (1976), Jean-Pierre Jabouille (1980), Jacques Laffite (1981), Niki Lauda (1984), Jacques Villeneuve (1997), David Coulthard (2001) and Michael Schumacher (2002) will all be there. Alain Prost (1983) will be busy elsewhere looking after his son's racing career while Alan Jones (1977 & 1979) is unable to attend because his wife is recovering from a road accident. Carlos Reutemann (1974) is busy with gubernatorial activities in Argentina.

Lorenzo Bandini (1964), Jo Siffert 1971), Ronnie Peterson, (1973) Vittorio Brambilla (1975) and Elio de Angelis (1982) are dead.

There is no word on Eddie Irvine (1999), Nigel Mansell (1987) and Mika Hakkinen (1998 & 2000).