APRIL 17, 2003
No rule changes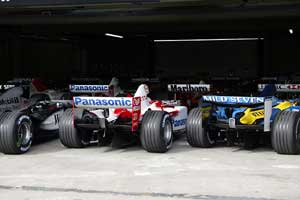 The Formula 1 team bosses have agreed not to tamper with the rules in any major way for the rest of the F1 season. FIA President Max Mosley said in Imola that there are to be a couple of small changes but otherwise things will remain as before. There are some alterations regarding the use of the spare car which mean that teams will be allowed to use spares but the car which is qualified is the car that must be raced unless the team want to start at the back of the grid.

Teams can also change engines if there is found to be a problem but the car must then start at the back of the grid.

Mosley said that the unpopular parc ferme regulations will remain "until the teams can come up with a way to solve the problem in a better way to ensure that the car that starts the race is the car that qualified".

According to some of those present there was a generally positive discussion but few decisions.