APRIL 12, 2003
A big new sponsor for Williams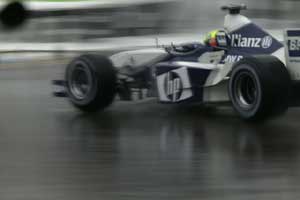 There are lots of rumors coming back again that BMW is to start its own team in F1 in the future. These seem to emanate from statements made by ex-BMW Motorsport director Gerhard Berger who remarked that all BMW's options are still open. The reality is that the Munich manufacturer will almost certainly stay with Williams but the details of the deal are still being negotiated.

In the meantime it is anticipated that Williams will announce a big new sponsor at the forthcoming San Marino Grand Prix to replace the deal with Veltins. There is no clue as to the identity of the team's new backer except suggestions that it is a well known brand and will be good for the sport as a whole. After a series of months in which a number of sponsors have been abandoning the sport it is good to see new names coming in, in the wake of Sauber's new backer the Russian telecom firm MTS Systems and Ferrari's deal with Olympus.

Stories suggesting that Jordan would announce a big new sponsor have proved to be false (for the moment) but it is possible that Giancarlo Fisichella's victory in Brazil could spark interest in the team. Now is a good moment because the F1 rate card is low and TV viewing figures are rising thanks to the series of good races we have seen so far this year.