APRIL 11, 2003
The FIA confirms Fisichella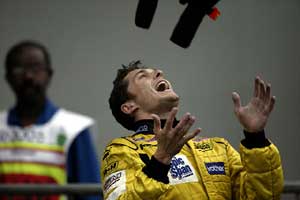 The FIA has now confirmed that Giancarlo Fisichella is the winner of the Brazilian Grand Prix, following a meeting of the stewards of the event in Paris on Friday morning. Having examined the detailed records "provided by the organization responsible for timekeeping at the event" the Stewards were satisfied that Fisichella crossed the line to complete 55 laps before the signal to stop the race was given. The race was thus stopped on the 56th lap and thus the classification is that at the end of lap 54, which meant that Fisichella was first with Kimi Raikkonen second, Fernando Alonso third, David Coulthard fourth, Heinz-Harald Frentzen fifth, Jacques Villeneuve sixth, Ralf Schumacher seventh and Jarno Trulli eighth. Mark Webber loses out because he crashed at the end of lap 54 and so did not complete the lap.

The stewards of the meeting will submit a report to the FIA about the circumstances which led to the wrong race classification being issued.

The new result means that Raikkonen's lead in the World Championship is reduced to 24 points, nine ahead of Coulthard. Fisichella gains two points and moves up to fourth in the World Championship, ahead of Juan Pablo Montoya and Trulli. Ralf Schumacher gains two points and so moves ahead of Frentzen in the Drivers' Championship.