APRIL 9, 2003
What happened in Interlagos?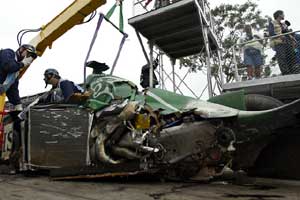 The important question that needs to be answered about the Brazilian Grand Prix is how it was that the classification was issued incorrectly - if it is judged that this was the case. The timing screens immediately after the race showed the order on lap 54. Several journalists (who have very tight deadlines in Brazil) where in the process of writing stories with Giancarlo Fisichella as the winner. Those who kept lap charts were busy arguing that Fisichella had completed lap 55 and therefore that the classification should have been at the end of lap 53. But its seems that everyone was wrong because Fisichella did not take the red flag before he crossed the finish line and so it was his 56th lap when the race was stopped. Thus the classification should have been taken at the end of lap 54, as the screens indicated. At some point (several minutes) after the race ended this was switched to the classification at the end of lap 53 which made Kimi Raikkonen the winner as he was still in the lead at that point.

The mess in Brazil may also be linked to the fact that for the first time in memory Race Control also missed a clear violation of the rules when Ralf Schumacher overtook Jos Verstappen before the start-finish line at the first restart. This should have been reported and punished with a drive-through penalty. Several drivers also reported yellow flag overtaking incidents which were not punished.

The interesting point in all this is that there may be a reason for it all happening at the same event. The demise of the Formula One television digital broadcasts means that some of the technology which was used by Race Control may no longer be available.

The digital broadcast center - known in the Formula 1 paddock as "Bakersville" after Eddie Baker, the former Brabham mechanic who ran it - was producing groundbreaking digital TV coverage of Grands Prix racing. This was able to monitor the exact position of each car on the track at any time. This was very useful for the TV crews because it enabled them to have the cameras better coordinated and to have the captioning much more reliable. This was achieved by the use of a fiber optic cable "ring" of the circuit, linking together sensors which are placed every 100m. As the computers knew exactly where the cars were and how fast they were going it was possible to monitor incidents and we believe that software existed which indicated if a driver has gone through an accident scene faster than he should have done or overtaken when he was not supposed to have done.