APRIL 8, 2003
Antonio Pizzonia and Jaguar Racing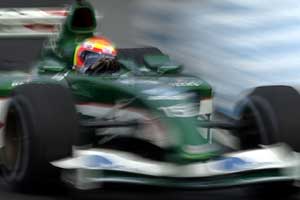 The Formula 1 paddock in Brazil was full of rumors raising the question of whether Antonio Pizzonia is the right man for the job as Mark Webber's team mate.

When Pizzonia was signed by Jaguar last autumn the new F1 regulations were not in existence. The decision by Jaguar to restrict its testing has meant that Pizzonia has not been able to learn as much as he would have been able to if the team had been testing between the races. This seems to have had an effect on the Brazilian driver's performance in the early races this year. Mark Webber's astonishing performance in qualifying in Brazil showed up Pizzonia once again as he was only 17th on the grid.

The suggestion is that the emphasis in F1 is now on experience because there is very little time for a young driver to test and learn the ropes in Formula 1. Three of the four new boys this year are driving for teams which have agreed to restrict their testing to Friday mornings at Grands Prix meetings. This means it is very hard for them to get to grips with the sport and Pizzonia has clearly struggled.

"We have had a few people knocking on the door and offering their services," said a Jaguar insider. "We have to see how Antonio does but at the moment we are not very happy."