APRIL 8, 2003
The future of Ralf Schumacher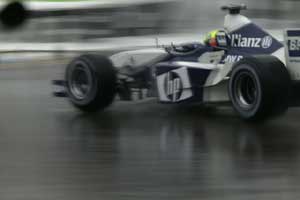 There has been a lot of talk in F1 circles in recent days about the future of Ralf Schumacher with the BMW Williams team. Schumacher has a contract which runs until the end of 2004 but there are key signs that the relationship may come to an end before then. The rumors began when Willi Weber, Ralf's manager, speculated that Ralf might move on to Toyota. Weber said that he wants Ralf to stay at Williams for two more years but that Toyota is a good alternative. The only slight problem with this idea is that Toyota has shown no interest at all in Ralf and so the stories are being seen more and more as attempts to create some leverage to try to negotiate a better deal for Ralf. This is not going to happen as Ralf is currently earning $15m in 2003 and is scheduled to earn $18m next year. This deal was negotiated at a time when the economic situation was nowhere near as difficult as it is today. Schumacher has not done very well in the last 12 months, particularly when compared to his team mate Juan Pablo Montoya. Williams wants better results and unless things start to happen soon, there is a danger that Williams will decide to terminate the contract and pick a new driver. This happened a few years ago when Alex Zanardi failed to win the team's confidence. The result was that Zanardi was paid off.

There have been rumors that if this were to happen the team would choose either the current test driver Marc Gene, who has done very well in the last year, or would pick up a new star. Current speculation suggests that while Giancarlo Fisichella may seem to be the obvious candidate for the drive, the team might be more likely to pick a youngster such as Mark Webber. The other option would be to go for a younger (and cheaper) driver.

Schumacher finished a lackluster ninth in Brazil although he argued that he would have been on the podium if the race had not been ended early. In fact Ralf was lucky because at the end of the Safety Car period which followed the crash between Ralph Firman and Olivier Panis, Ralf overtook Jos Verstappen before the two cars crossed the startline. Fortunately for Ralf the incident was apparently not spotted and so he avoided a drive-through penalty, which would have dropped him even further back.